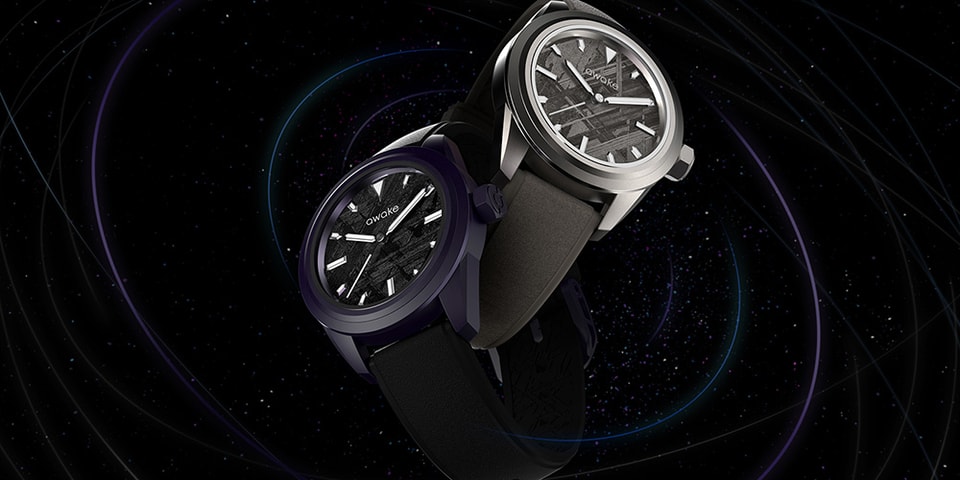 Continuing its Mission To Earth collection, French horology experts Awake now presents its third iteration of the series. Titled "Time Travelers," the timepiece integrates several futuristic features that usher in a new chapter for the watchmaker.
The sci-fi theme is present throughout all aspects of the watch's design, most notably on its dial. Crafted from Muonionalusta, a 4,56 billion-year-old meteorite first discovered on Earth in 1906, the dial boasts the alloy's unique patterns allowing the wearer to hold a piece of scientific history on their wrist. Inside the watch, Awake uses an updated Japanese-made Miyota caliber which offers a 42hr power reserve as well as beats at a rate of 28,800 alternations per hour. The rotor comes more elevated than any of the other watches in the series through meticulous finishes and sandblasted alternations providing an all-around technical look.
With sustainability at the brand's core, the 40mm case is constructed from 70% recycled titanium that possesses the same robust and durable features whilst simultaneously being light and totally waterproof – a real toolwatch designed for everyday wear. To round off the design, the strap is crafted from a BioPoly® material decorated with a Widmanstätten pattern on the inside to reflect the striations of iron meteorites, the same pattern also adorns the display box that the watch is presented in.
Unveiled as a stand-out feature on its debut chapter of Mission To Earth, Awake continues to integrate blockchain within its timepieces. Boasting a sapphire crystal glass with NFC ID technology, the contactless face offers an ethereal digital experience for users. Encouraging individuals to delve into their relationship with time, users can explore the beauty of the Milky Way as well as access emotional and cognitive experiences which align with the French watchmaker's values.
Limited to only 500 units each, the "Time Travelers" collection arrives in purple and gray iterations and retails for €1,300 EUR (approx. $1,400 USD) each.
To find out more information on the collection and to shop the watches, check out Awake's website now.